Third-Party Logistics and Warehousing Provider
When you need a custom logistics solution, Days Distribution & Logistics offers a diverse range of services to maximize efficiency and minimize cost. We're strategically located one hour east of Chicago, IL in Northern Indiana, allowing us direct access to you and your customers throughout the country. Your Logistics and Warehousing Provider.
List of Logistics, Warehouse, and Transport Services
Cross-dock services, Cross-docking
Shipping and Receiving
Container unloading, Box car, and flat car unloading
Wood cutting services
Rail Access and Rail unloading
Freight moving
Load Reworking, Load Salvage, Freight Fixing
Delivery Services/transport logistics
Food grade warehouse
Rack and Bulk Storage
RF Scanning
Intermodal
Vendor Managed Inventory (VMI)
Overflow, Excess and Seasonal Storage
Security
Dedicated, Public, On-Demand Warehousing
WERC Member
IWLA Member
Have other needs not listed, contact us and we will do our best to find a solution for you!

Value Added Services
When you partner with another company to move your product to market, you want to be confident that you are working with quality management and excellent problem solvers that understand how to meet and surpass your customer's expectations.  That's who we are.  That is why our customers ask us to provide so many value-added services.
We provide container stuffing services for overseas shipping including Recreational Vehicles and boats for local manufacturers.  We can ship anything you need anywhere in the world.
Examples of value-added services we currently provide:
Cutting lumber to specific dimensions
Domestic & Export Packing Services, Crating Services, Container stuffing
Kitting and light assembly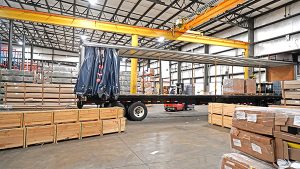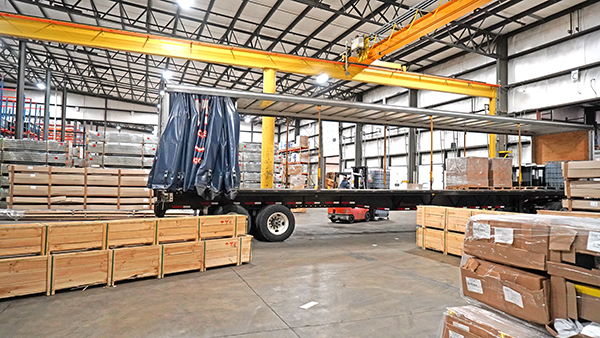 Your Trusted Provider of Logistics, Warehousing, and Transport Services
EQ Logistics is a sophisticated, multi-dimensional 3PL company that provides innovative services that meet the demands of our dynamic industry. We feature scalable and on-demand warehousing solutions with robust management systems and RF capabilities. Our personal approach sets us apart, and we're dedicated to the consistent provision of flexibility and responsiveness.
Why Outsource to a Third-Party Logistics Provider?
Self-management of logistics can be a complex and costly undertaking. With EQ Logistics, you can eliminate the challenge of procuring facilities and equipment, managing labor, and transporting products yourself. Outsourcing to us allows you to:
Focus your efforts and your capital on your core competency
Generate a better return on capital by lowering investments in expensive assets
Lower your costs by taking advantage of our economies of scale
Expense your company only for the capacity you use, not for inventory fluctuations or seasonal peaks, while adding immediate scalability to your logistics operations
Improve customer service
Gain our knowledge of Midwest markets in and around Indiana, Michigan, Illinois, and Ohio
Leverage our expertise and investments in information technology
Public Warehousing Solutions
Operating warehousing services is about organizing the ideal combination of location, facilities, equipment, storage systems, information systems, and customer service. We work with you to create a public warehousing plan that suits your company's specific needs.
Our Facilities
Each of our facilities is maintained at the highest standards in the industry, and we consistently receive excellent audit reports. Our buildings are food-grade and steel-constructed with high bay ceilings, sealed concrete floors, and sprinkler systems for optimal inventory capability and safety. Rail facilities include warehouse docks and ground-level sidings, and our racking systems feature selective, drive-in, and cantilever racking. We use industrial pest control services and carry warehouseman's legal liability insurance to ensure the integrity of your products, and our secure properties are fenced and monitored by TYCO Securities for fire and burglary.
Our Equipment
Continually investing in the equipment we need to get the job done right the first time, every time. Our equipment includes:
Standard forklifts of varying lengths
Forklift accessories such as paper clamp attachments, squeeze clamps, and carpet poles
Narrow-aisle reach trucks and narrow-aisle side loaders
25,000-pound capacity lift trucks
Overhead cranes
Our Transportation Services
EQ Logistics offers transportation services with our fleet of company-owned trucks and equipment. We can respond to same-day delivery requests, and we offer logistics services for deliveries of all types. We have extensive knowledge of carriers of all kinds in our region, allowing us to take advantage of freight consolidation opportunities and volume shipping discounts with all major common carriers. Our transportation vehicles include:
Curtainside trailers
Vans
Flatbed trailers
Straight trucks
In addition to truck transportation, we provide cost-effective small parcel, LTL, oversized, air, and ocean solutions.
Contact Us Today!
The friendly, knowledgeable team at EQ Logistics is ready to help you create a 3PL solution that meets the needs of your business and your customers in an efficient, cost-effective manner. Contact us, your Logistics and Warehousing Provider today at (866) 847-8330 to get started!