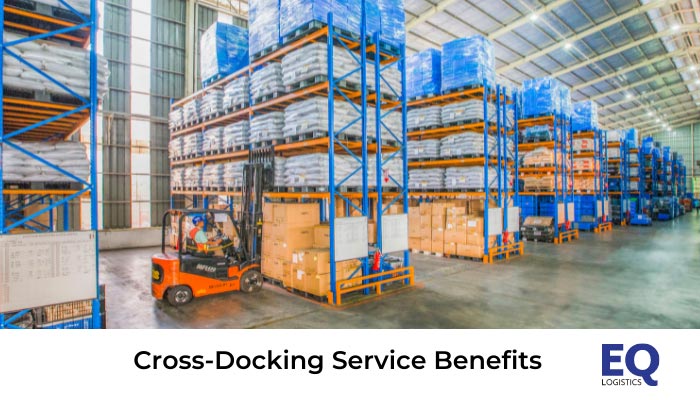 Cross-docking can be an essential component of a well-coordinated logistics system. The practice involves redirecting inventory to its next destination while simultaneously reducing in-storage inventory levels and shortening the material's transit time to the next destination.
This capability is an expedient service that solves problems, eliminates supply chain disruptions, and ensures timely end-user deliveries. Keeping things moving is the mantra of any logistics manager. Cross-docking is often part of a company's overall operations plan. This practice can be an emergency or occasional problem-solving measure in other instances.
What is Cross-Docking?
Cross-docking literally means moving inventory "across the dock" from a recently arrived delivery truck or rail car into other vehicles or facilities for further shipment.
While these actions may not happen simultaneously, some or all of the freight will likely be reloaded in a short time.
There are many uses for cross-docking facilities, with each designed to expedite deliveries, reduce on-hand inventories, and save time and money.
When Does Cross-Docking Usually Occur?
1. Cross-docking is not always a planned event.
In some instances, the inbound freight may be late while an outbound shipment or delivery vehicle waits for the merchandise. In other cases, a third-party cross-dock provider might become responsible for accepting a late shipment when it arrives, then redirecting the material to the end-user.
2. Provide Drayage Services for Overseas Container Arrivals
Cross-docking can help reduce drayage costs. The provider may collect the filled shipping container at the port, unload it at their facility, and return the container to the port to minimize the drayage costs incurred by the consignee.
3. Extracting Shipments from Mixed Loads
This service separates one consignee's shipment from others and then delivers the specific products to the consignee.
4. Adjusting the weight of overloaded vehicles or containers
This is essential to staying legal and avoiding fines. An effective cross-docking operator can unload enough of the load to be legal, hold it, then deliver to the end-user in two parts.
5. Cross-docking and consolidating inbound loads from multiple vendors
By using this service, you have an efficient, money-saving way to manage inventory. The cross-dock operator unloads each shipment, then redirects the appropriate inventory to a vehicle for delivery.
6. During fast-moving, temperature-sensitive inventory
Cross-dock shifting into a climate-controlled dock and warehouse minimizes exposure. It also allows quick turnover and maximizes the remaining shelf-life for time and temperature-sensitive products.
Overall Benefits of Having 3rd Party Cross-Dock Capability
An efficient logistics management team can coordinate cross-dock functions to create a process that minimizes inventory and storage costs.
Decreased Labor and Storage Outlay
Products shipping out shortly after arrival require less handling, space, fuel, and equipment. Plus they use less labor since you eliminate transfers to storage and back.
Less Handling, Less Exposure
Eliminating excess handling, inventory, means products, particularly temperature-sensitive ones, undergo less handling. This way there is less potential for damage.
EQ Logistics Provides Efficient Cross-Docking Services
Strategically situated in Elkhart, Indiana, along the upper Great Lakes Corridor of I-90 and I-80, EQ Logistics offers easy access to all major northeastern markets. With state-of-the-art warehousing and cross-docking services, the experienced professionals at EQ Logistics can help logistics managers solve many of those costly and time-consuming bottlenecks that frequently burden the best-designed supply chains.
For more information about how EQ Logistics can help solve supply chain issues, contact them at (866)-847-8330. Or complete the brief Contact Us Form on the EQ Logistics website, and one of the EQ professionals will contact you promptly for a no-obligation, confidential consultation.