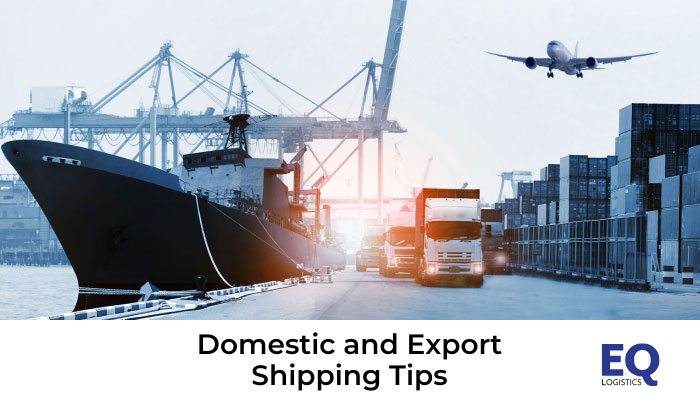 Whether your company is shipping across the state or overseas, shippers must do everything they can to ensure the products arrive at their destination undamaged and on time. Damaged and late products can cause the customer many problems and may result in a supplier change. The challenge is even more significant when dealing with perishable, temperature-sensitive products.
Therefore, getting the shipping process right the first time and every time is critical to building a successful business.
Tips for Successful Shipping
Using proper packaging is crucial to ensure products survive the rigors of warehouse management and shipping. The packaging design should be sturdy enough to support stacking. It should also be strong enough to handle reasonable handling. Dimensions should allow the contents to have a precise, snug fit to minimize the risk of damage within the packaging.
Shippers should also anticipate temperature variances that products may experience while en route or at their destination. When products originate in a northern area in January, shipments heading south to areas where the temperature is substantially hotter must be packaged to sustain the product's quality in a much warmer climate.
Understand International Laws and Customs
Customs clearance procedures vary with each country. Particularly with early shipments, logistics managers must be sure that all the documentation, ingredient lists, and labeling protocols comply with local regulations. Experienced third-party logistics companies are familiar with every expectation and requirement that each destination country expects.
Managing Shipments
Whether for domestic or international shipments, real-time information about the location and condition of each shipment is an essential feature of an effective third-party logistics company. With continuous electronic tracking capability, shippers can monitor where loads are located. They can also identify locations and temperatures in real time. Thus, they can accurately communicate an up-to-date arrival time to the receiver.
In addition, should something unforeseen compromise the integrity of a shipment, the shipper can determine precisely when and where something went wrong.
Understanding International Shipping Costs
Traveling longer distances involves container loading or less-than-container load (LTL) consolidation, documentation, duties, and customs clearance.
When searching for a logistics provider for international export, shippers should ask for a breakdown of cost components. This is important to understand the landed or delivered costs the business will pay. Also, a visit to the staging and warehousing facility can help to understand the processes that the 3PL uses.
A professional 3PL understands these processes and can address all elements routinely with expert staff and state-of-the-art systems. Notably, the 3PL should be able to disclose the cost components of each phase, including those uncontrollable third-party costs like ocean freight rates and duties.
It is essential to understand the somewhat complex variety of internationally accepted INCO terms like ex-works, FOB, CIF, CFR, and others that define when title, responsibility, and cost of the goods pass to the buyer.
For example, FOB or Free on Board means that the shipper takes responsibility for moving the goods only to the port of embarkation. From there, the buyer assumes responsibility for freight and clearing customs.
At the other extreme, DDP or Delivery Duty Paid, the shipper pays all the costs to the buyer's destination. This includes customs clearance and duties. Your 3PL can help determine the best and most economical option with these calculations.
Leave Domestic and Export Management to the Experts
Manufacturers and processors are experts at producing their products. For warehousing and transportation, however, working with a professional 3PL company allows the company to keep its focus and assets directed toward product improvement and enhancing the customer experience.
EQ Logistics has decades of experience in every phase of logistics management. From its centrally located full-service warehouse in Elkhart, Indiana. EQ Logistics stores and forwards goods and materials for a wide range of clients, efficiently directing goods across North America and overseas.
To schedule a consultation to discuss managing product movement to ensure faultless delivery and save money, visit the EQ Logistics website. Or you may schedule a consultation by calling EQ Logistics at (866)-847-8330.