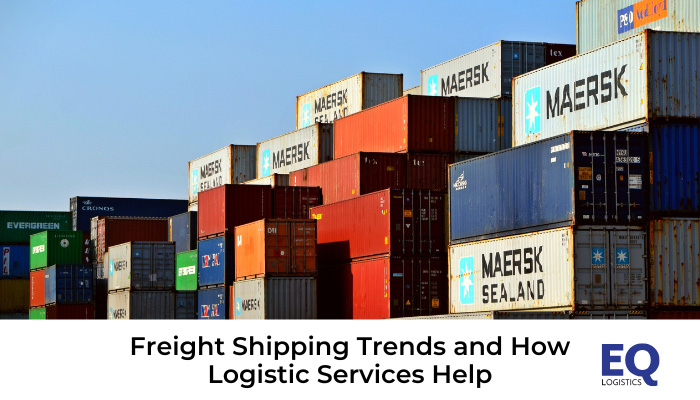 During the past few years, the global pandemic and other international events have disrupted normal supply channels. Parts production reductions and raw material backlogs have caused notable shortages and voids in many industries.
In addition, a decrease in freight haulers is exacerbating the problem. It is to the point where some producers can no longer meet the demand for their products.
The most reliable logistics companies and third-party freight management teams like centrally located EQ Logistics of Elkhart, Indiana, have anticipated many challenges in adapting to the new environment. Furthermore, they see beyond the headlines and traditional ways of conducting business to identify trends and solutions.
Recognizing the 3 Important Freight Shipping Trends
1. Enhanced Technology: Autonomous Trucking
To optimize processes, forward-thinking logistics companies are adding developing technology to their freight management systems. These advances help with both tracking and real-time information for clients. Additionally, technology and robotics help in-house inventory flow movement. Many companies are also considering autonomous vehicles for moving goods from one point to the next.
Some forward-thinking companies have already begun adapting the technology of autonomous trucks to transport goods without human involvement. The concept has been successfully tested in several trials. According to a recent Forbes article, some developers predict implementation as early as 2024. However, this development of robotics for picking, transferring, and loading goods accurately into a waiting vehicle is undoubtedly important.
2. Increasing Costs
It is no surprise and certainly no secret that logistics costs are rising quickly. Fuel costs, labor, and other critical components of freight management are rising, and efficiency will become even more critical in the coming years. The cost of shipping a 40-foot container overseas or across the country continues to increase. However, forward-thinking logistics managers can offset some price increases and become more competitive by:
Shipping on lower demand days
Finding ways to reduce transit times.
Adopting more efficient packaging to increase the volume within a shipping container.
Outsourcing many logistics management responsibilities to a 3PL (third-party logistics company) and taking advantage of that company's volume and efficiencies.
Working closely with suppliers and customers to uncover and eliminate redundant and unnecessary activities that make product movement more expensive.
Renegotiating contracts where possible.
3. Growing Importance of 3PLs
Many companies recognize that the economies of scale for product movement are better reached by working with an outside company or proven 3PL with extensive facilities, equipment, and technology.
Moreover, these companies can offer state-of-the-art storage facilities, sophisticated inventory management, globalized shipping and documentation, and timely transport.
Thus, eliminating the need to maintain these critical functions in-house allows companies to invest their hard-earned capital in other areas. For example, product development, marketing, and customer relations. All by simply passing the logistical tasks to a less expensive 3PL partner.
Work with EQ Logistics, a Premier 3PL
Eliminating miles driven and the unnecessary transfer of products between the origin and destination is a fundamental objective for any logistics manager.
Finding state-of-the-art storage and delivery facilities that are the most centrally located eliminates the time and wasted mileage and will decrease the landed cost. EQ Logistics in Elkhart, Indiana, is situated along the north-central corridor of one of the most densely populated regions of the United States.
EQ Logistics provides the perfect location for storing, staging, and delivering inventory for any area near Chicago, Indianapolis, Detroit, Cleveland, and other midwestern metropolises.
To learn more about the modern warehousing facilities and advanced capabilities of EQ Logistics, visit the EQ website or contact their professionals for a consultation regarding your logistics needs at (866)-847-8330.