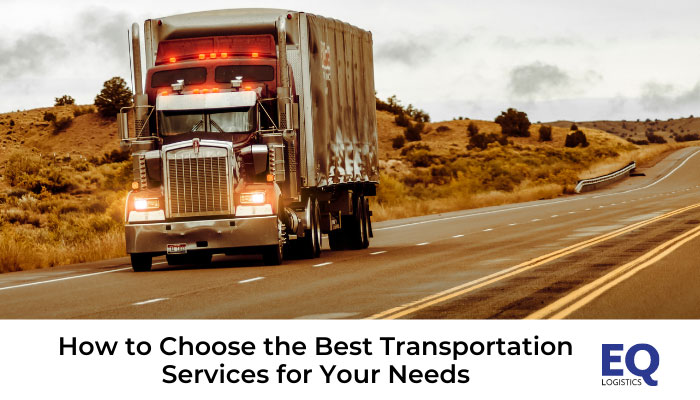 A timely, dependable supply chain is a critical element of success in today's fast-moving economy. Manufacturers, distributors, retailers, and others rely entirely on solid performance from each logistics partner to satisfy demand. Here's how to choose a transportation services provider for your business.
Breakdowns, miscalculations, and chronic poor performance by partnering transportation services can result in significant losses and even business failure.
When identifying the right transportation services, what attributes should you look for?
What Makes a Transportation Services Company Effective?
The first step in selecting a reliable transportation company is to define your company's specific needs. Developing a profile checklist will help narrow the field and allow for more accurate and in-depth evaluation and selection.
There are two distinct qualification categories to consider when selecting transportation service partners. The first is the company's physical capability, location, and equipment. You must also assess any assets needed to perform the necessary functions.
The second equally important category pertains to the logistics company's past performance and attitude. You should look at their track record and reputation, along with a commitment to client success. Timeliness, accuracy, understanding, honesty, flexibility, and clear communications are also important.
Define Your Needs and Expectations
Make sure your transportation service provider can handle your products. If your product is perishable or has a short shelf-life, for example, the logistics provider must have storage and transport capable of maintaining the necessary conditions. Ensure the service provider also has back up options in case anything goes wrong.
Choosing a Transportation Service Company: Physical Capability
Warehousing: clean, temperature-controlled facilities ideal for temporary storage, staging, and transfers.
Transport Equipment: a fleet of vehicles for moving inventory to desired destinations in perfect condition.
Technology: the technological capability to oversee, forecast, communicate, and anticipate product positioning in real-time.
Location: situated appropriately to minimize mileage and inventory transfer time. This also reduces the potential for late arrivals and equipment tie-ups.
Choosing a Transportation Service Company: Assessing the Intangibles
Thorough interviewing and research should reveal the necessary information. Therefore, helping you to determine whether a transportation service will be reliable, timely, and committed to your success.
Prepare a document that outlines in specific terms all the commodities you are managing. Additionally, address when, how long, and how frequently you require specific services. Consider how the material is to be handled, where shipments are coming from, and where they will be going. An engaged partner will even offer productive suggestions to help streamline the process to your advantage.
Also, if necessary, is the company capable of coordinating intermodal, ocean, rail, and air transport?
Timeliness
Can the prospective vendor provide a record of on-time deliveries and pickups? Do they have reasons for deviations, i.e., breakdowns, weather, overscheduling, etc.?
Culture, Customer Service, and Communications
What do the company's Vision and Goals say about the service provider?
Finding a transportation partner with similar company culture and communications requirements will create a mutuality of purpose and natural communications. As a result, this sets you up for a long-term relationship.
Flexibility
Emergencies arise even with the best-laid plans. Does the prospective transportation provider have the staffing and resources to adapt and adjust sufficiently to minimize an unforeseen challenge?
Reputation
Contacting current and past accounts will help determine if the transportation services candidate is everything they appear to be. Is their claim to complete customer commitment real, or is this a hollow claim? Is the company entirely focused on profitability at the expense of customer service and loyalty?
EQ Logistics: Customer-Focused Transportation Services
Strategically located in Elkhart, Indiana, beside one of the most heavily trafficked corridors in the Northeastern United States, EQ Logistics offers state-of-the-art transportation and storage facilities. They have experienced staff focused on customer satisfaction, timeliness, attention to detail, and open communications.
Learn more about EQ Logistics' proven and reliable transportation services capability. Visit their website to view the many services, features, and advantages the company offers.
For a no-obligation consultation, contact the transportation experts at EQ Logistics by completing the Contact Us Form or call +1-866-847-8330.