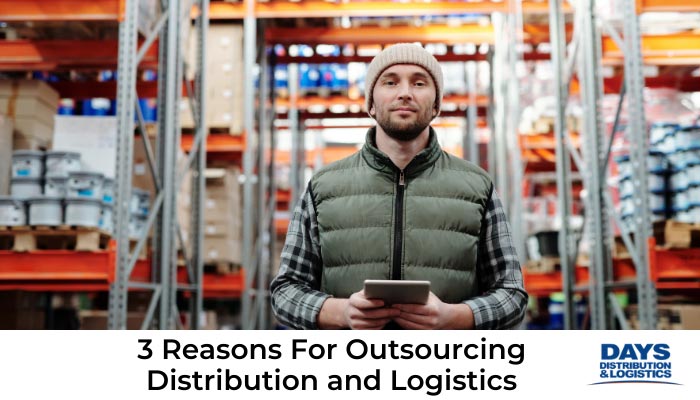 Outsourcing distribution and logistics offer many benefits. The consequences of poor distribution and logistics can be catastrophic for your business. Poor facility layouts can cost the organization millions of dollars in unused space. This can also cause confusion during handling and shipping further compounding the problem. Overstocking, inaccurate inventory, and poor demand forecasting are other possible concerns.
These challenges can compromise productivity, lead to more workplace injuries, and increase shipping costs. You may even lose a few customers. Third-party outsourcing distribution and logistics offer a way out.
3 Benefits of 3PL (3rd Party Logistics) Outsourcing Distribution and Logistics
Outsourcing essentially means that you let a professional third-party handle selected activities on your behalf. Here's why you should consider outsourcing your distribution and logistics :
1. Flexibility to grow profitably
A key reason many businesses struggle with logistics and distribution in the first place is that they are trying to do too much on their own. Owners of smaller businesses especially feel that they can do it alone, from accounting to marketing and hiring. Although tempting, it is impractical to run every aspect of the business yourself and be profitable.
Outsourcing gives you the "break" you need to focus on more important areas of the business. You can focus more on finding new customers and identifying new market opportunities. You'll still have the final say in running your distribution and logistics. However, you'll assume a more managerial role once you're more focused on your top priorities.
3PL outsourcing also makes it easier to scale. If you need more warehouse space to meet growing demand, it is just a phone call away. The 3PL services provider will do the rest. You can also quickly re-align transportation and distribution networks to mitigate unforeseen challenges such as driver shortages and labor issues.
2. Significant cost savings
Outsourcing logistics and distribution offers cost savings in two ways: improving processes and enhancing labor quality.
3PL companies offer labor optimization, improved process design, and automation. Automation alone can save you thousands of dollars every year. Process efficiency is another perk. Additionally, waste that is common in logistics and distribution, such as damaged goods, is reduced. You're also guaranteed greater optimization of shipping and transportation as 3PL service providers only select the best service level for each operation.
With regard to people, 3PLs are better at creating the right warehouse culture to drive improvements in productivity and efficiency while reducing turnover. Drawing from their experience, 3PL companies also deliver better safety planning to reduce injury and incidents. Fewer safety incidents means a reduction in absenteeism and a more productive workforce.
3. Add value to the supply chain
This is arguably the most overlooked benefit to 3PL outsourcing. For one, third-party logistics companies equip themselves with Warehouse Management Systems (WMS), Transportation Management Systems (TMS), Electronic Data Interchange (EDI) solutions, and Radio Frequency Identification (RFID) technologies. These all help improve supply chain visibility and connectivity. This results in a more efficient and streamlined supply chain.
Moreover, most 3PL companies offer value-add services, such as kitting, repackaging, and assembly. This can drastically reduce inventory, labor and transportation costs. The best 3PL companies even process product returns, oversee inspections and handle reverse logistics. Considering that up to 40% of orders are returned in some industries, such as apparel, imagine how much more it would cost you to handle returns on your own!
You may even find a 3PL company that takes care of cross-docking and order consolidation to reduce storage needs and eliminate associated costs.
The ROI is Huge When Outsourcing Distribution and Logistics
If you're still wondering about third-party outsourcing distribution and logistics, you only need to look at the benefits. The return on investment can be very high, especially when choosing the right outsourcing partner.
Are you considering professional 3rd party assistance in warehousing, logistics, transport, domestic or export crating, packaging, or shipping? Contact EQ Logistics at 886.847.8330 for a quote.
Days Distribution & Logistics is now EQ Logistics