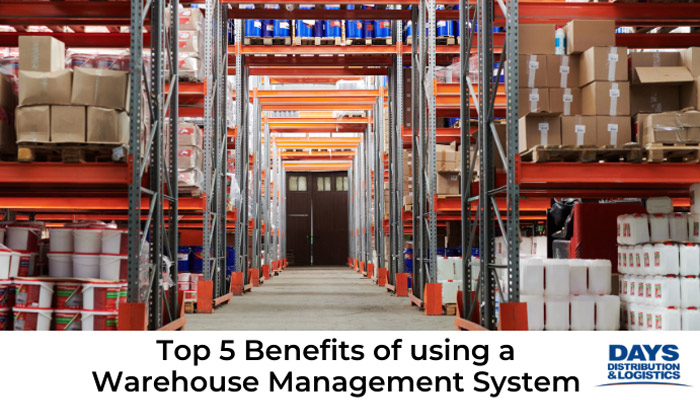 From poor inventory management to bad customer service, warehouse management presents a myriad of challenges for businesses. Indeed, according to the US Department of Labor, some consequences of poor warehouse management are a decrease in worker morale and an increase in work-related injuries. This results in diminished productivity and increased operating expenses. A Warehouse Management System (WMS) can help address most of these challenges while improving inventory performance and increasing ROI.
What is Warehouse Management System?
Warehouse Management Systems (WMS) are software applications that support day-to-day operations within the warehouse.
These software programs enable centralized management of fundamental warehouse tasks. This helps to eliminate and prevent errors when it comes to completing tasks like inventory tracking and stock location. A WMS can also greatly improve billing management and enhance customer and supplier relationships. This in turn improves the business' bottom-line metrics.
5 Benefits of a Warehouse Management System
Below are the five main reasons why every business should consider warehouse management systems.
1. Improve inventory visibility
Inventory visibility is a crucial factor for effective warehouse management. You want to track every item in the warehouse by tracing its movement on the warehouse floor and its location during transportation. This process makes it easier to estimate supply and avoid backorders, which leads to happier customers. Additionally, this visibility reduces the chance of losing, forgetting or misplacing products.
A WMS uses scanning, RFID, and other location-tracking methods to ensure accurate, real-time inventory visibility.
2. Just-In-Time inventory
The practice of Just-in-Time inventory ensures that stock levels are kept low, and products move quickly through the warehouse. Instead of holding onto inventory for weeks or months, the company receives it "just in time" to fill an order. It's a very efficient approach that guarantees cost savings while simultaneously optimizing warehouse space.
A WMS includes demand forecasting tools that can help businesses generate optimal inventory levels to meet demand without unnecessarily exceeding it. Furthermore, an added bonus is this can help businesses reduce waste and scraps related to perishable items.
3. Workforce management benefits
The best businesses consider workers' skill levels, proximity to the warehouse, available equipment, and available warehouse tasks to assign tasks. This allows them to achieve optimal productivity by assigning the right tasks to the right workers at the right time. A WMS can also help in this area.
A WMS helps prioritize the highest impact activities and find the most suitable workers to perform specific tasks. Through labor forecasting, you can also assign jobs on a day-to-day basis and efficiently assign schedules. Better still, you can analyze your staffing needs against KPIs to determine the right candidates during the hiring process.
4. Improved security levels
Warehouse security is a major challenge. Every day, businesses lose millions of dollars to petty theft and fraudulent transactions. Hackers also tend to target individual employees to penetrate warehouse computer systems and the business' main systems.
A WMS allows businesses to maintain an audit trail that connects individual employees to their transactions, thus improving accountability and reducing the risk of theft. The programs can also implement and restrict user-based access to prevent unauthorized access and minimize damage in a data breach.
5. Continuous improvement benefits
Finally, businesses are always seeking opportunities for growth and improvement. To gain an advantage over your competition, you must be able to proactively add new features and adopt new technologies.
A WMS enables continuous improvement and seamless warehouse expansion. If you're opening a new branch, you can quickly make the changes you need in your WMS. The same applies when incorporating new processes and innovations. Manual warehouse management setups aren't as flexible.
Warehouse Management System: It's a Must-Have
If your business is not using a warehouse management system yet, you're missing out. Make the switch today to boost your workforce productivity, save on operating expenses, and reduce costly errors.
Are you considering professional 3rd party assistance in warehousing, logistics, transport, domestic or export crating, packaging, or shipping? Contact EQ Logistics at 886.847.8330 for a quote.
Days Distribution & Logistics is now EQ Logistics