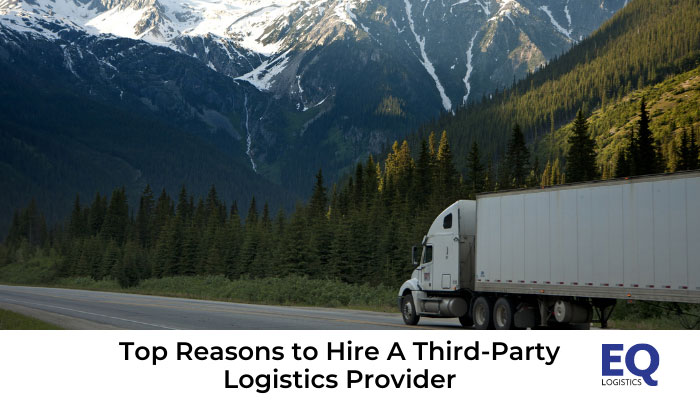 There is a large debate on in-house vs. outsourced logistics. But is in-house a viable option for small and medium-scale entrepreneurs? Is it cost-effective for global enterprises? Possibly not. Although in-house sounds great, a third-party logistics provider is often the most practical choice for small and medium-sized organizations. It is also the best choice for large enterprises keen to enhance operational efficiency.
Outsourcing puts your logistics processes in the hands of highly qualified professionals so you can focus on more important areas of your business. Additionally, outsourced logistics can reduce costs while boosting profitability.
Read on to find out five reasons you should migrate your logistics processes to a third-party solutions provider, like EQ Logistics.
What's 3PL?
Third-Party Logistics (3PL) companies are professional service providers that enable enterprises to outsource supply chain management and other supply chain tasks.
The providers serve as one-stop shops for enterprise supply chain processes, including packaging, warehousing, order fulfillment, and transportation.
Benefits of Third-Party Logistics
The following are five key reasons you should opt for third-party logistics over in-house supply chain management.
1. Get access to logistics experts
Some global conglomerates can afford in-house logistics because they have the budgets to hire the best professionals. However, smaller and medium-sized enterprises don't have such budgets.
Outsourcing offers a way to "hire" the best logistics and supply chain professionals without overspending. 3PL providers already have the best employees with extensive experience within their ranks. So, by outsourcing, you're indirectly employing the best.
2. Leverage the best logistics technologies
If you choose to purchase or build solutions in-house, costs can be very high. For instance, Warehouse Management System (WMS) can cost up to $100,000 per year. Now imagine that you need several programs like this to accurately manage your supply chain. This can all add up and become very expensive for your business.
Outsourcing to 3PLs gives you access to the most advanced supply chain tools without extra costs.
3. End-to-end supply chain optimization
One of the primary sources of waste in a supply chain is inefficiencies. This is especially true when you have different elements of the supply chain existing separately. The lack of alignment results in reduced productivity and higher costs.
3PLs prioritize eliminating waste through continuous optimization. Providers consistently monitor practices, analyze processes, and fine-tune services to maximize value while eliminating waste.
4. A high level of flexibility and scalability
A common challenge enterprises face during growth is rigidity and the lack of resources to scale. For example, your company may have grown tremendously recently, meaning you now need 20 rather than 15 trucks. So, maybe you need more vehicle parking and more warehouse space. In-house logistics can be extremely limiting in such circumstances. Often, these changes mean the entire business needs to move or have several locations, complicated production, and distribution.
This is another reason you should consider outsourcing. Your 3PL provider will have a lot more resources at hand, meaning you can scale up or down right away. Whether you want to take up new routes or expand into new markets, you can do so immediately – without undue constraints.
5. Save time and money
Above all, supply chain management can be time-intensive and expensive, even if you have a dedicated in-house department. Remember that you must still manage the department and pay the employees. You're also responsible for their benefits and allowances.
Outsourcing saves you from most of these responsibilities. You don't have to worry about payroll or tracking every truck. Additionally, you no longer have to worry about sick days and employee turnover. Instead, you simply pay the service provider, and they handle everything for you.
Take the Step Now
If you still rely on an in-house logistics and supply chain strategy, you're losing money and missing out on industry expertise. Switch to a third-party logistics provider today and see the difference.
EQ Logistics, formerly Days Distribution, is a 3PL warehouse solutions provider in Elkhart, Indiana. Specializing in warehouse management and logistics, EQ Logistics is here to help with your logistical needs. Contact us today at (866) 847-8330 or visit our Elkhart offices to speak with an expert!