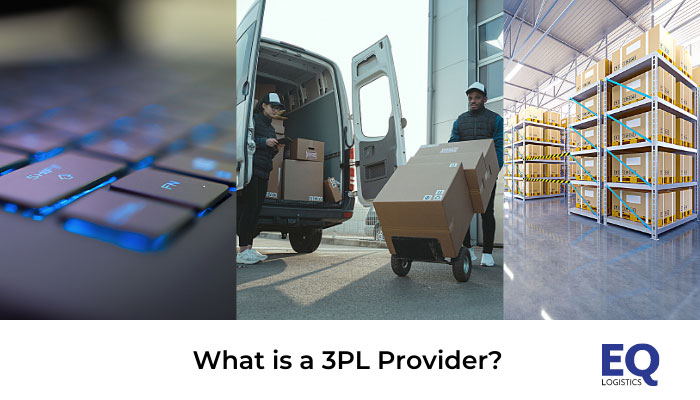 As the demands on the global supply chain continue to grow, manufacturers and retailers continue to face snags and delays. This is due to a shortage of resources available to move products and raw materials from their origin to destinations. A 3PL provider can help.
While this situation is likely temporary, it highlights the need for efficient logistics management capabilities. Especially as they become more apparent as a vital part of maintaining the competitiveness of any company.
For most companies, investing in logistics staff and support systems is not a viable economic option. Managing the flow of goods demands real-time information and planning, complicated cost analysis, and instant communications and tracking. Not to mention the necessary storage and transport equipment to ensure on-time deliveries.
To help manage the entire process, Third-Party Logistics or 3PL companies like award-winning EQ Logistics, have grown and evolved. They are an outsource option for managing inbound and outbound freight movement and more.
An effective 3PL provider s a resource that lets companies refocus their resources and efforts on their primary function.
What Does a 3PL Provider Do?
A proven 3PL partner can manage every phase of the movement of goods to and from their client's facilities. The process can include freight management, inventory tracking, scheduling, and warehousing. It could also include raw material and finished goods deliveries.
Information Sharing
At the heart of 3PL service is information technology. This is shared between the logistics provider and the client. Sharing real-time information enhances forecasting that is important for scheduling freight movement, minimizing in-house inventories, planning production, and eliminating costly out-of-stock situations and emergency shipments.
In a fully developed 3PL relationship, the process becomes seamless through technology and communication.
Freight Management
Whether using the 3PL's equipment or finding other transportation, the 3PL can organize and schedule all freight movements. This includes both inbound and outbound, to provide the lowest cost, on-time arrivals.
3PL providers can often track the precise location of each shipment in real-time. This allows them to advise the client of an expected time of arrival.
Warehousing and Inventory Management
When working with a proven 3PL provider company like EQ Logistics, manufacturers can minimize the volume of raw material and finished goods stored within their facilities. Longer-term storage offered by the 3PL helps retailers and manufacturers deal with seasonal fluctuations, overstocks, and other storage requirements without using their own space.
EQ Logistics offers their centrally located Elkhart, Indiana warehousing facility to store client inventory until needed.
Delivery Services
As the final phase of the 3PL function, delivery services by the 3PL are also available. Whether routed directly from the production line or a storage facility like EQ Logistics' Elkhart warehouse, the professional 3PL company will ensure clean and timely deliveries to the next destination.
Documentation
Then paperwork required for freight movement, particularly international transport, can be extensive. Experienced 3PL providers like EQ Logistics automatically generate all necessary documentation. This ensures smooth and uninterrupted transportation of any products or goods.
With inbound or outbound shipments, managing the freight requires precise documentation. This addresses all local regulations, duties, and customs for each product category and destination. Luckily, 3PL providers are always fully up-to-date with any necessary forms or changes.
EQ Logistics: A Leader in 3PL
EQ Logistics provides superior custom services to each of its clients. Always focusing on the customer's needs, EQ Logistics strives to find the quickest, most efficient, and most cost-effective solutions for their clients.
Whether EQ Logistics provides every element of a full-service 3PL experience or only parts of it, the logistics experts at EQ help their clients find the solutions that work best for them.
EQ Logistics adds value and saves money with each client's logistics challenges. They help seamlessly manage freight and storage and facilitate final deliveries using their 3PL capabilities.