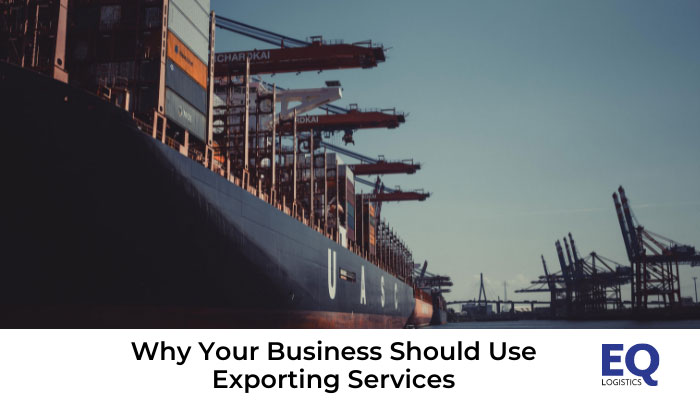 Few companies can afford the staff or information and communications resources to manage outbound freight requirements. The cost of an in-house logistics department with the necessary knowledge and experience to manage freight and inventory can be extremely costly and prohibitive. Here are the benefits of professional shipping and exporting services.
A professional third-party logistics company has the skills, experience, and resources to seamlessly manage every domestic and international shipping phase. This will save time and resources while eliminating delays.
Producers can refocus their human and financial resources on their real purpose while outsourcing the shipping management to a qualified Third-Party Logistics (3PL) company.
Outsourcing the freight and documentation functions is doubly vital with international sales and export management.
Staying Competitive
A company's ex-works costing is something that businesses spend much time fine-tuning. The shipping, warehousing, and delivery can make their products non-competitive in pricing and customer service.
However, your supply chain management company can facilitate your inbound freight. Outsourcing these services can lower your landed cost further.
Why 3PL Exporting Services are Essential
A full-service third-party logistics provider can create all documentation and scheduling for small or large shipments. They also arrange the loading and pick-up, freight, and delivery. Plus they understand and comply with regulations, customs, and paying duties. Warehousing and freight forwarding are both essential elements of 3PL.
Here are more detailed reasons for engaging an outside party to manage your supply chain:
1. Keep Your Business Growing
You should invest your company's resources into the technology and experienced staffing to improve your product. Freight is likely not one of the core competencies you wish to develop. So why would you waste resources already available?
2. Increase Sales Revenue and Profits
A premier 3PL can help keep your delivered costs competitive. In some instances, your products may become more competitive due to efficiencies gained through supply chain improvements.
3. Improve Customer Service
Timely communications plus clean, on-time deliveries and problem-solving can enhance your company's relationship with your clients. Squeezing unnecessary costs from the supply chain will also help build a long-term positive relationship.
4. Compliance and Legal Expertise
A proven 3PL provider understands the regulations and documentation required for both domestic and international shipping. The company will ensure that all shipments clear customs quickly with few delays and at the lowest cost.
5. End-to-End Services
The third-party logistics management company can become your single point of contact for all supply chain issues. Splitting these functions among freight companies, forwarders, warehouses, delivery services, and others can be confusing. This can waste valuable time and resources. Therefore having a single "go-to" service contact for shipping and exporting services and all matters of product movement can free up valuable time and eliminate headaches.
Additionally, in an emergency event, that dedicated 3PL will work on your behalf. They can effectively resolve a logistical bottleneck or other problems.
EQ Logistics of Elkhart, Indiana
Strategically situated only an hour east of Chicago along the busy Great Lakes corridor of the United States, EQ Logistics offers a wide range of outsourced logistics services.
EQ provides extensive, customized warehousing that employs state-of-the-art information technology and equipment plus freight management to facilitate inventory management, overstocks, and seasonal build-ups. The warehouse facilities are temperature-controlled and rated food-safe.
Because of EQ's high-volume shipping portfolio, its logistics professionals can consolidate mixed loads at the lowest cost to ensure client competitiveness. EQ's experienced professionals will also manage the container packing and stuffing to provide the most efficient freight per unit.
If you have questions about how these supply chain experts can benefit your company, complete the brief CONTACT US form on the website, and we will contact you promptly to discuss your questions.
Or you may call EQ Logistics at (866) 847-8330.