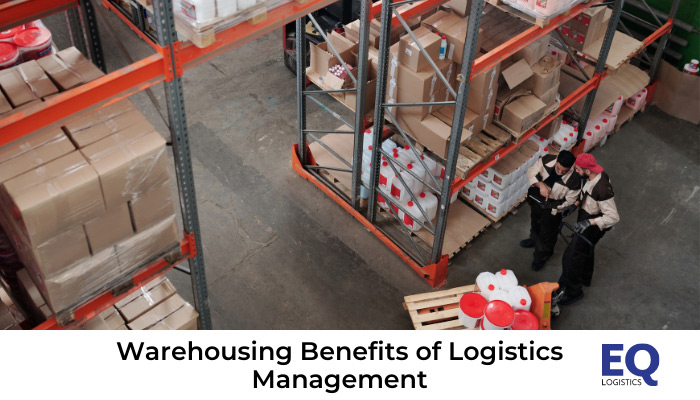 Most businesses that manufacture, import, export, or ship products require warehousing. However, many businesses don't have the space onsite especially as they grow and expand. This is where logistics management and warehousing can help. It may seem like an unnecessary expense in the beginning, but it can save your business money and boost productivity in the long run. Using warehousing services through a logistics company like EQ Logistics gives you peace of mind.
Below are several benefits your business will experience when using logistics management services for warehousing.
Inventory Management Solutions
Many businesses don't track their inventory correctly or at all. This leads to issues with the customer journey, particularly around late shipments. With warehousing, your products are in a central location and completely tracked from arrival to shipment. By investing in logistics management services, you can store, and ship products much more efficiently. This increases customer satisfaction as well as reducing stock errors.
Packing and Processing
Logistics management services can pack and process orders for you. All of your product is already in one place and is ready to go. The warehousing team simply packs and ships the products according to your needs. This saves you money as you no longer need to move products around from storage to the packing facility. Additionally, you do not need a dedicated fulfillment team as the logistics company handles it all.
Improved Customer Service
Modern consumers want to know exactly when their order should ship. They also expect faster delivery times, and will pay more for this service. As a business owner, you aim to satisfy and exceed customer expectations to increase loyalty. Warehousing services allow you to offer timely delivery and optimize your distribution processes. By using these logistic management services, you also reduce order errors and can minimize product damage. As the logistics company tracks every product, you also see less lost product during the handling process.
Stabilize Pricing
Consumer demand for products can vary month to month and year to year. However, warehousing logistics allow you to store your products for a later date at a specific price. This allows you to free up office or warehouse space onsite for current products. By doing this you can save money as you no longer need to clear out stock after the season to make space. You can also continue to offer these products online at a standard retail price and ship them directly from the warehouse. This enables you to maintain consistent stock levels while maximizing profits.
As you can see, there are many warehousing benefits of logistics management. The above benefits can help you to build a better brand reputation and increase customer loyalty. You can also use logistics management services for various other needs like custom wood cutting, exporting, and container stuffing. This allows you to expand and grow your business without requiring a larger facility.
Learn More
EQ Logistics, formerly Days Distribution, is the preferred warehouse solutions provider in Elkhart, Indiana. We specialize in warehouse management, logistics, and warehouse technology integration. Contact us today at (866) 847-8330 or visit our Elkhart 3PL offices to speak with an expert.