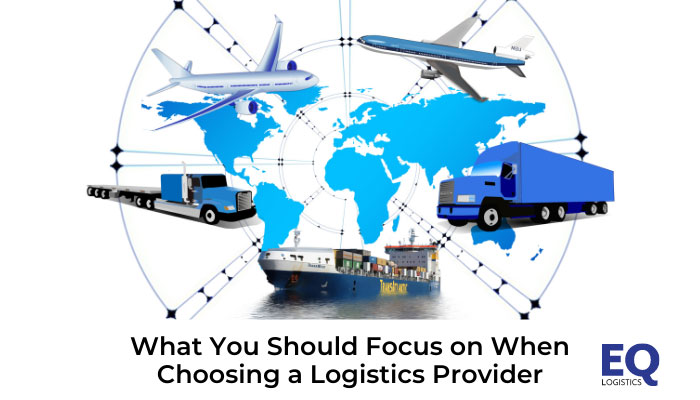 It is no secret that supply chains globally are facing disruptions due to the pandemic and political events. These developments have had a dramatic impact on various industries and continue to heavily impact product-based industries. Some of these disruptions include sourcing products, product production delays, and delivery schedules gaps. Not to mention the shortage of reliable transportation services. When choosing a logistics provider, supply chain managers must concentrate their efforts on maintaining continuity. Selecting a highly reliable logistics provider keeps their companies running smoothly.
Lapses in supply can cause a manufacturer or retailer to lose market share that may not be retrievable. Conversely, companies locking in reliable supply chain partners can take advantage of the current challenging circumstances. And therefore, to maintain and even grow their business.
Attributes of a High-Quality Logistics Provider
An effective logistics provider must feature the right tools and facilities, expertise, technology, and flexibility to be a top candidate. Choosing candidates demands research and in-depth evaluation to determine which company is best. Naturally, one size does not fit all. Therefore, selecting the biggest, most well-known companies may not work for your business needs. In fact, sometimes a smaller, more enthusiastic provider that can adapt to your needs is a better choice.
Setting Your Objectives
Research, interviewing, and planning are critical elements of a supply chain partner search. The essential first step is to establish your business goals. Then, focus on partners that are most capable of adapting their services to your needs.
Communications and Customer Service
Every company has some variation in its customer service approach. This element can be superficial, as sometimes it is because of a different culture and value system. However, it may also depend on how important your business is to them as a company.
Look for references from existing and past clients to identify how well the company communicates, responds to issues and emergencies, and demonstrates a commitment to the client's success.
You will need to make sure your communications and data sharing technology are compatible. After all, you want to be able to track inventory accurately throughout its journey.
Cost Reduction
Cost reduction or minimization is a primary reason for a supply chain partner change. Streamlining the inventory flow, increasing the turnover rate, eliminating unnecessary processes, reducing the average inventory levels, eliminating supply outages and emergency deliveries, and cutting the time front origin to destination are key drivers for a more efficient supply chain.
Real-time information and strategic storage locations and shipping points will eliminate waste. They also help to reduce logistics costs while providing better service.
Enhanced Efficiency
Excellent real-time communications, inventory management, strategic warehousing, cross-docking locations, cultural alignment, and timely deliveries are the foundations of a cost-efficient and responsive supply chain.
A poorly situated warehouse adds miles, time, and cost. They also usually require a higher safety stock level. Similarly, a logistics partner with inadequate equipment will invariably cause late or damaged deliveries.
A world-class logistics partner will have facilities and equipment that are modern and clean. Focus on choosing a logistics provider company that has the right storage for your needs and can safely transport your freight.
EQ Logistics of Elkhart, Indiana
Located at the nexus of several of the nation's major roads and railways, EQ Logistics and Warehousing offers state-of-the-art storage and delivery with on-demand services.
Ideally situated for staging and redistribution to all major Midwest markets, EQ Logistics can reduce your dependency on expensive assets, provide economic advantages through economies of scale, help smooth out seasonal peaks and inventory fluctuations, and provide sophisticated and compatible real-time data.
For more information, contact the logistics professionals at EQ Logistics at +1-866-847-8330.
To set up a no-obligation consultation to discuss EQ Logistics services, you may complete the brief Contact Us Form, and one of our logistics experts will contact you.